Jubin Roofing Roofing Roll Forming Machinery
Maklumat produk:
Barisan pengeluaran ini menggunakan lembaran keluli tergalvani, plat perisai berwarna atau plat aluminium sebagai plat bahan. Produknya digunakan sebagai jubin bumbung dan panel dinding di luar bangunan, untuk meningkatkan kecantikan dan daya tahan jubin bumbung dan panel dinding. Garis ini tidak mempunyai had pada panjang pemprosesan
No.

Glazed Roofing Tile Roll Forming Machinery




1

roller station

12 roller stations

2

speed of production

0-2m/min

3

Voltage

380V, 50HZ, 3phases

4

width of steel sheet

1200mm




5

dimensions

6.92*1.45*1.51m

6

thickness of steel sheet

0.3-0.6mm




7

Material of cutting blade

Cr12

8

Hydraulic

#40

9

Control system

PLC system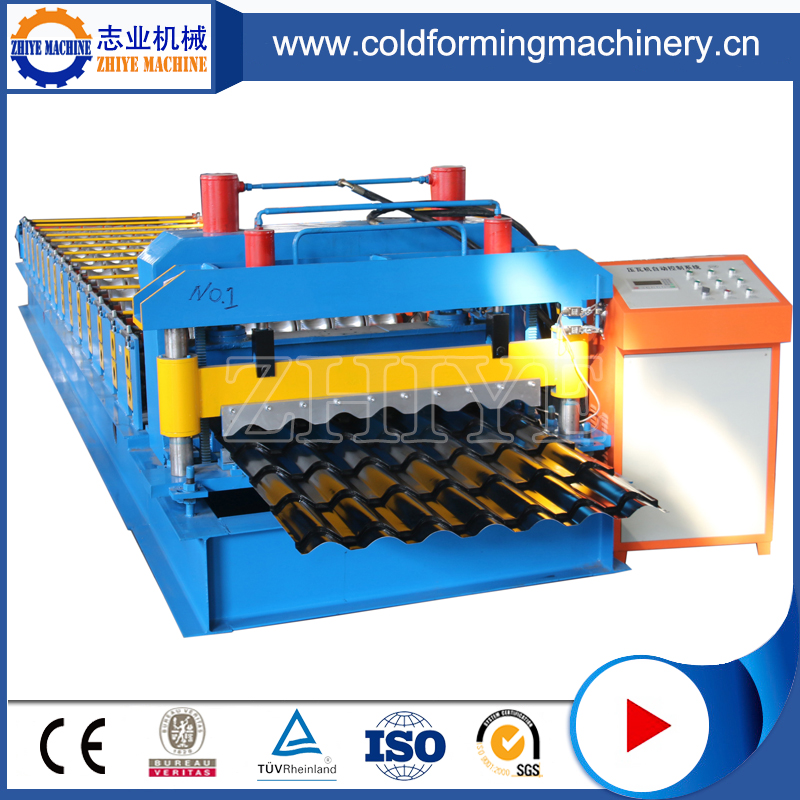 1. Manual Uncoiler:

Penggunaan: Ia digunakan untuk menyokong gegelung keluli dan tidak mengikatnya dengan cara yang boleh diubah. Gegelung keluli tergelincir dengan tangan.
Kapasiti memuatkan: 5T
Diameter dalam: 500-508mm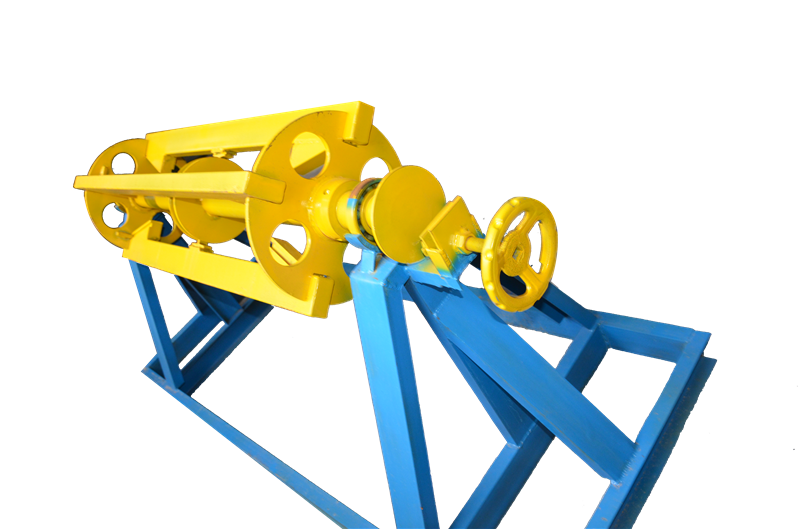 2. Jadual Makan:
Letakkan bahan mentah (plat keluli) melalui pantai untuk menghasilkan dan memproses, ia boleh menjamin bahawa produknya kemas. Selari dan semuanya adalah keseragaman. Sila rujuk peraturan peralatan untuk mengetahui fungsi mencari sudut besi.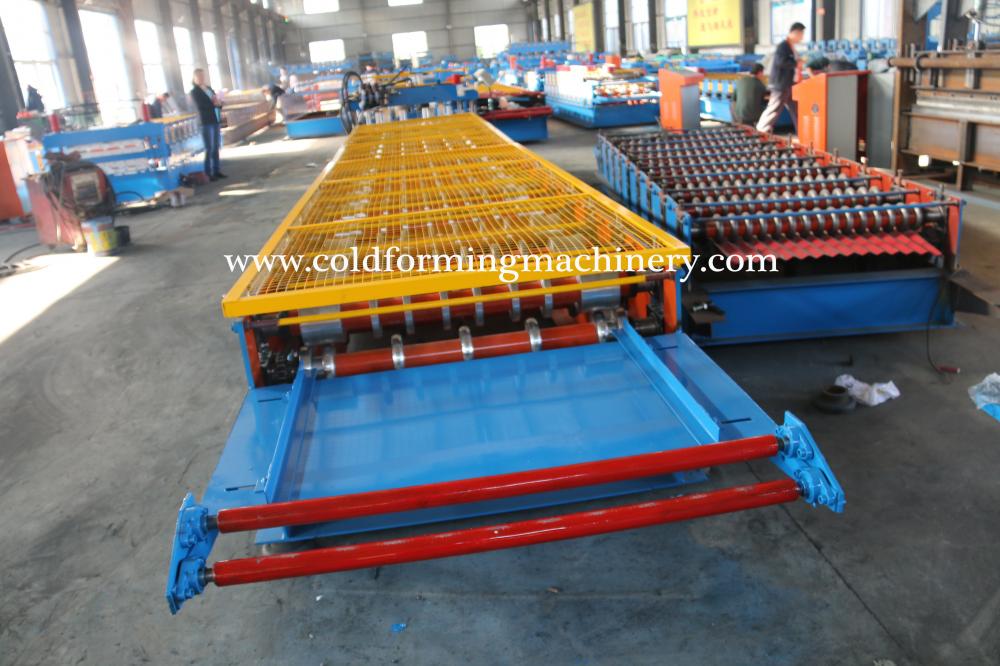 3. Mesin membentuk gulung utama:
Bahan penggelek: 45 # keluli, penggelek permukaan menggilap, penyaduran keras. Permukaan yang digilap dan rawatan haba ke arah acuan juga boleh mengekalkan pengacuan. Permukaan plat licin dan tidak mudah ditandakan apabila ia dicap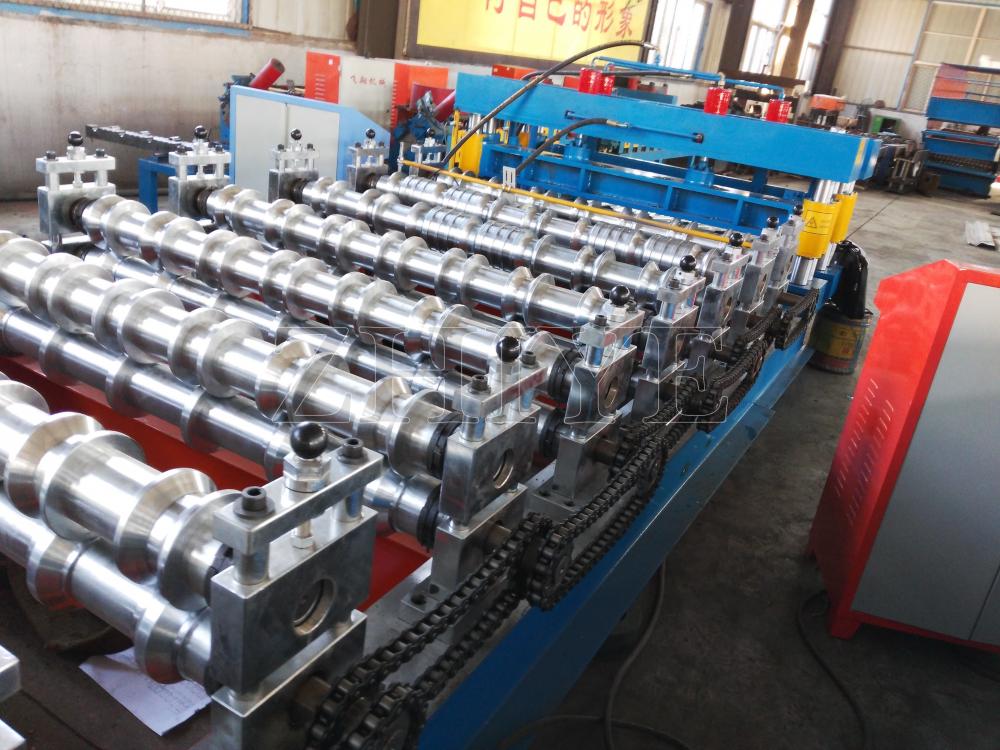 4. Sistem hidraulik:
Minyak hidraulik: 40 #.
Minyak hidraulik ke dalam tangki minyak hidraulik, pam memacu mesin pemotong untuk memulakan kerja pemotongan.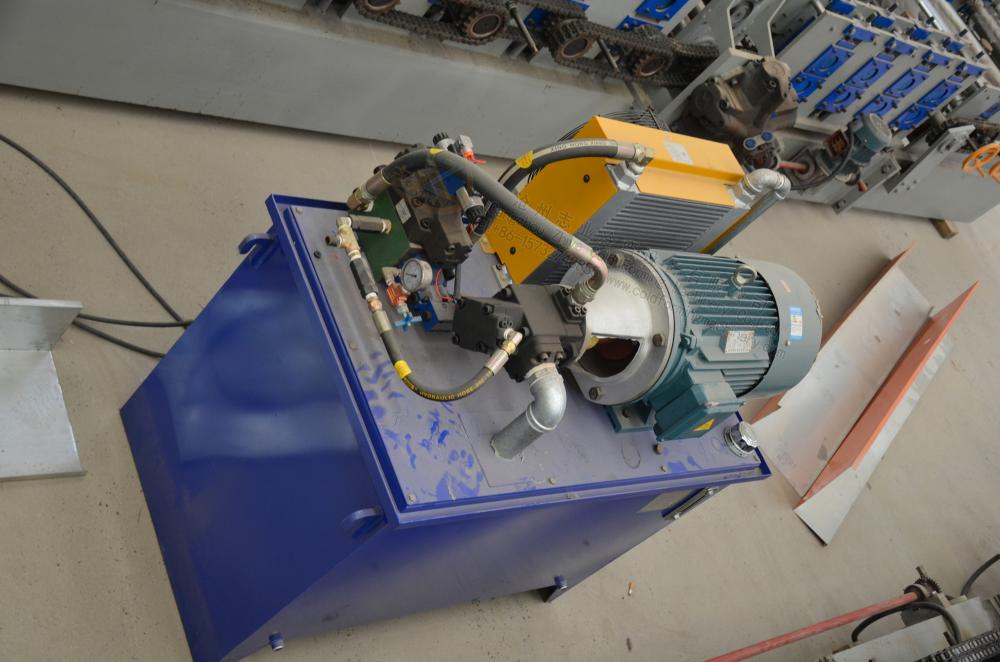 5. Mekanisme Rising: Ia mengguna pakai pemacu hidraulik dan lokasi automatik untuk menentukan dimensi dan memotong produk sasaran. Bahan bilah: Cr12, rawatan pelindapkejutan.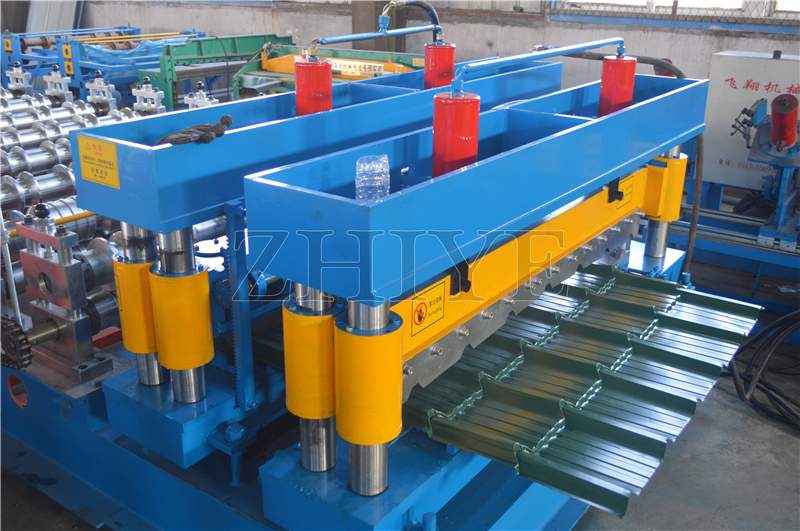 Pakej Dan Penghantaran:
Glazed Roofing Tile sejuk Roll pakej membentuk Mesin: Bogel, dengan kain kalis air dan harus menyelundup-kayu. Sistem kawalan komputer yang diimport dengan kain dan papan kad kalis air.
30 HARI BERAKHIR SELEPAS DEPOSIT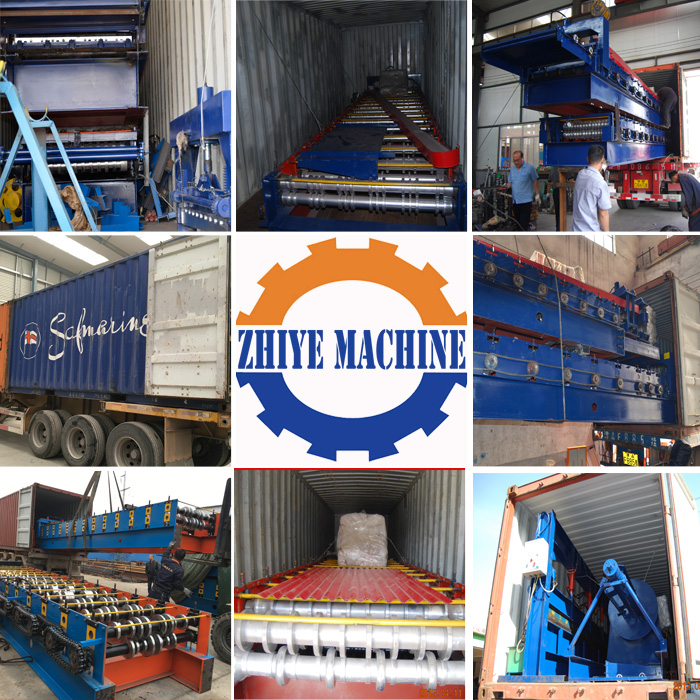 Servive kami:
Kami menyediakan sokongan teknikal untuk seluruh kehidupan. Sementara itu, jika mana-mana bahagian menjadi patah dan tidak buatan, kami akan menghantar anda yang baru secara percuma. Apabila memerlukan juruteknik pergi ke luar negara, kami akan menguruskan juruteknik. Tetapi pembeli perlu mengambil semua kos, termasuk tiket Visa, Roundtrip, penginapan yang sesuai dan membayar yuran perkhidmatan kepada juruteknik dengan $ 150 / hari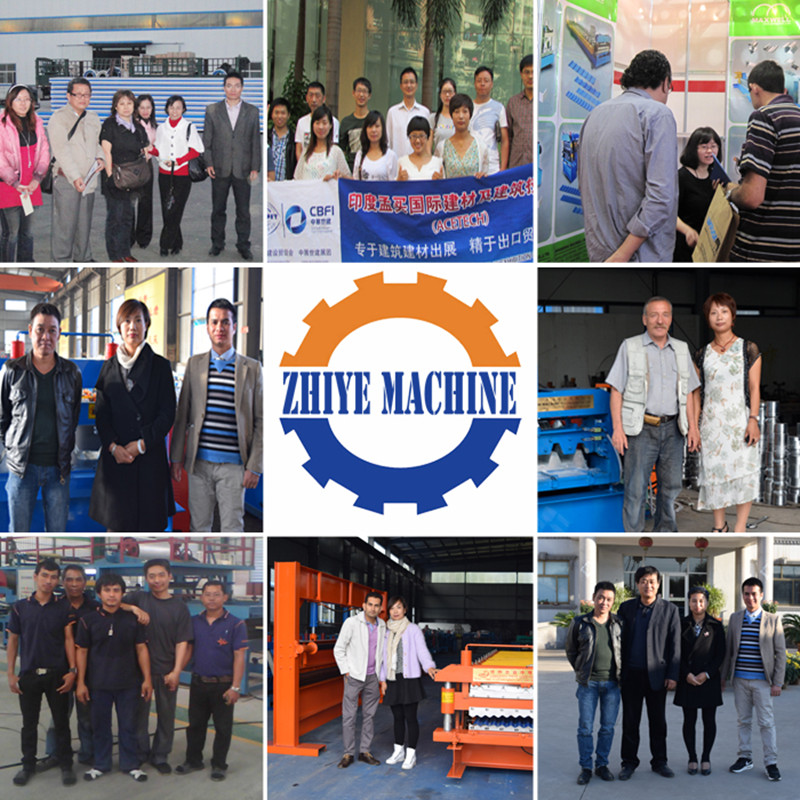 Maklumat Syarikat:
Cangzhou Zhiye Cold Forming Machinery Co., Ltd telah berhak mendapat [syarikat swasta utama "oleh kerajaan tempatan dan selama bertahun-tahun, kita telah didedikasikan untuk penyelidikan & pembangunan serta fabrikasi mesin pembentuk plat logam rolling rolling sejuk Oleh kerana fesyen pengurusan yang unik dan kebolehan dalam pembangunan produk, kami telah menempatkan diri dalam kedudukan yang terkemuka di tengah-tengah pesaing dalam bidang yang sama dan produk kami telah mendapat sokongan daripada industri pembinaan keluli untuk struktur cahaya dan bijaknya dan Reka bentuk yang sesuai juga.Untuk menjual Cangzhou PLC Dikawal GI Glazed Steel Rolling Machine Cold.

Hubungi: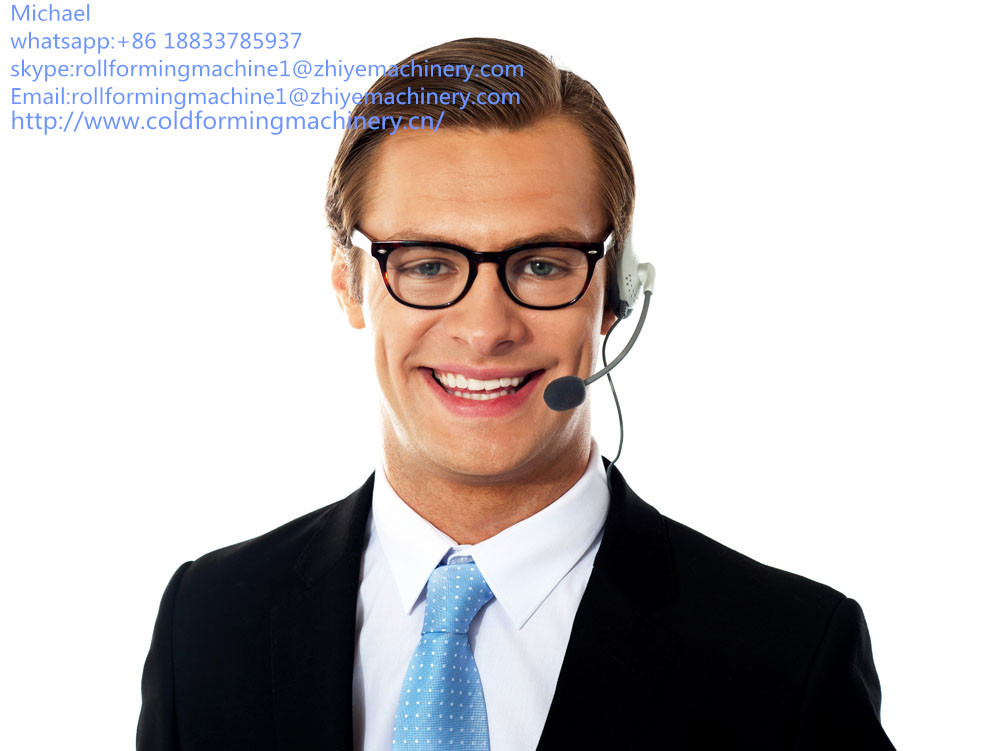 Kategori produk : Gali Roofing Roll Forming Roll